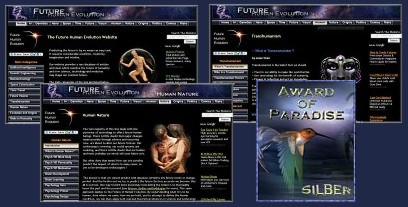 Congratulation, Moh Ata !
First let me say thank you for allowing be the privilege to evaluate your site *Future Human Evolution* for this award, it's not easy to win. You site has qualified for the Award of Paradise in Silver. Your site is very well done, easy to navigate and a great addition to the world wide web. I can see you have spent a lot of time perfecting your site.
It is a very interesting and scientific and speculative website about the future of human evolution regarding to artificial intelligence, genetic engineering, transhumanism, life extension and human enhancement.
I really enjoyed my visit on your website and keep up the good work. Once again, Congratulation !
Best regards, Franz Boigner !
Awarded on the 26. July 2009
Award of Paradise Award-Program